I don't spend a huge amount of time in Buenos Aires, as I'm normally passing through rapidly, hot-footing it back to my home country of the UK, or returning to my adopted city of Salta in north-west Argentina.
A tour we think you'll love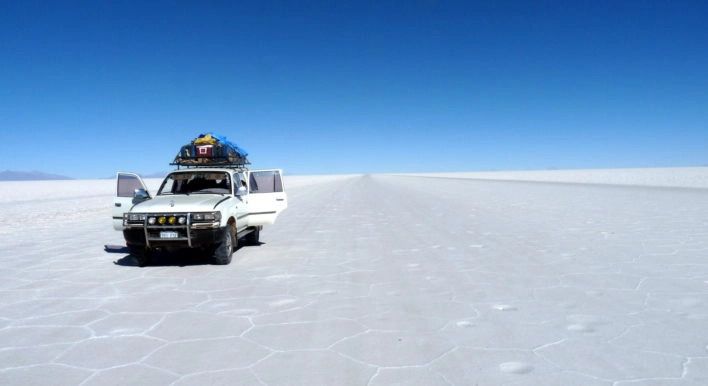 Salares of Uyuni, Bolivia
From $592
View tour
You can see the main highlights of Salta in a few hours on your own, or with Salta Free Tour who do excellent introductory walks.
Buenos Aires is a bit more daunting, so the best way of discovering Argentina's capital city is to get out on the hoof with someone who knows the place.
When my mum came to visit four years ago, rather than blunder around trying to show her a city I didn't know, I contracted a local English-speaking guide to Buenos Aires recommended to me by an English friend of mine from TV days, who lives in the capital.
Sol of Buenos Aires works in a very similar way to Poncho Tours in that she tailors her BA city tours to your needs.
We did a four hour private walking tour of the main highlights. I say the main highlights but the point is that this was a private, tailor-made tour, so we could decide what to focus on.
Thanks to Sol, I learnt lots of quirky new facts about Buenos Aires.
Soledad is bright, witty and chatty, with excellent English, and was very attentive to make sure that my mum, aged 70+, could keep up. She went out of her way to leave us at a bus stop so we didn't get lost on the way back to our hotel.
Sol is also a tango dancer so she can also organise trips to shows (and classes) for you: whether to the big tango shows or the more casual milongas.
Tango is something you really must see (or do) in Buenos Aires and Sol recommends the open air tango of La Glorieta in Belgrano as a good place to start (it's also free!)
Poncho Tours guest Abbie Holloway, a keen tango dancer who lives in London, recommends La Viruta milonga as "a must for someone who wants the proper tango experience".
And for those who just want to watch, there are good stage shows with sit-down dinners at Café de los Angelitos, La Ventana and Tango Rojo.
I discovered more about tango and other things to do in Buenos Aires during our enforced Covid shutdown…19 months with the borders closed to foreign visitors (yes, it still hurts)!
I was commissioned to write these Buenos Aires blogs, which required extensive and fascinating research (and plenty of picking of the brains of people more qualified than me, like Sol and Abbie).
Football fans should check out Sam Kelly's excellent Hand of Pod podcast for an introduction to Argentine soccer.
And Landing Pad is an excellent place to go for tickets for football matches, tango and many other activities in Buenos Aires.
If there's anything else you want to know about BA which isn't in my blogs, please contact us and we will try to find out for you.