Many years ago, while squiring guests around the Valles Calchaquies wine region, I met a larger than life Dutchman who instantly recognized a fellow gringo (there weren't as many of us around in those days).
With a wide sweep of his arm which suggested he had quite a bit of land, he told me he had a farm on the other side of the river.
A tour we think you'll love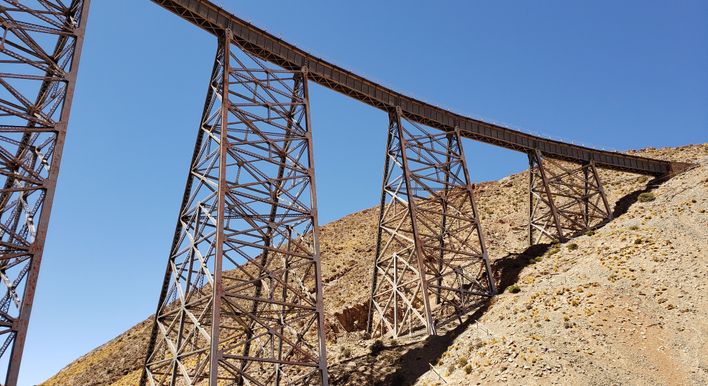 Salt & Seven Colours
From $375
View tour
I met the venerable Jan van Limburg Stirum at the Hacienda de Molinos, the former home of the last Royalist governor of northwest Argentina before the War of Independence, now an excellent hotel.
Molinos is en route from Cachi to Cafayate, so a regular stopover on our Classic Wine route.
At the time, Jan was living in the Hacienda while he renovated his finca across the river, which he'd bought in 2003.
When I say farmhouse, that's a bit like describing Balmoral as a country cottage: Jan's place is a 30,000 hectare estancia producing everything from alfalfa to onions, peas to peppers, maize to cumin, grazed by herds of cattle, sheep and goats.
He was also producing a vast amount of quinoa, the Peruvian superfood once a staple of the Inca diet, but was hit hard by the price crash of 2016.
So he has now decided to diversify into tourism, and is opening the doors of his magnificent estancia, Banda Grande lodge.
Since the 18th century, Banda Grande has been the bread basket of the Valles Calchaquies and beyond into the Valle de Lerma, where the capital city of Salta lies.
The Spanish founded San Pedro de Nolasco de Molinos on the west side of the river Calchaqui in 1659: molinos means "mills", and Banda Grande produced all the wheat for those mills.
As those of you who have joined us for private tours in Salta will already know, Molinos was the first major colonial encomienda established in the Valles Calchaquies, two centuries before Cafayate, as the Spanish struggled to find a foothold in the face of fierce indigenous resistance.
Jan's family connection with Argentina dates back to the 16th century, when the Holy Roman Emperor Charles V and his son Philip II of Spain gave land in the "New World" to one of his ancestors in reward for his loyalty (and military service) during the Eighty Years war, in which the Netherlands secured independence.
His family, Limburg-Stirum, used to own a huge chunk of land (effectively a separate kingdom) in what is now Holland and Germany.
Jan first came to Argentina in 1997 to work with an uncle who lived on an estancia in Santa Fé. Like me, he fell in love with the country, and has been splitting his time between Germany, Holland and Argentina ever since.
In 2003 he bought Banda Grande farm and began years of painstaking renovations, the fruits of which can be seen in a sumptuous, luxurious but unpretentious and welcoming estancia.
As you will see on Instagram, during our visits to Jan's place with family and friends, we have been hiking and horseriding through some of the amazing scenery, but there is so much more to explore.
We ate superbly: visitors with Poncho Tours will soon be able to wash down Jan's excellent barbecue with a bottle of his home-grown Malbec or Bonarda, and sit on the terrace to watch the evening sky with a glass of chilled Torrontes from his vineyards.
I'm looking forward to returning soon with some of our lucky guests
· See our Instagram page for more photos of Banda Grande lodge.