I first discovered Bolivian wine in 2011 when my wife proposed a shopping trip to Tarija, three hours across the border from Argentina.
I wasn't entirely keen until she said: "They have wineries".
A tour we think you'll love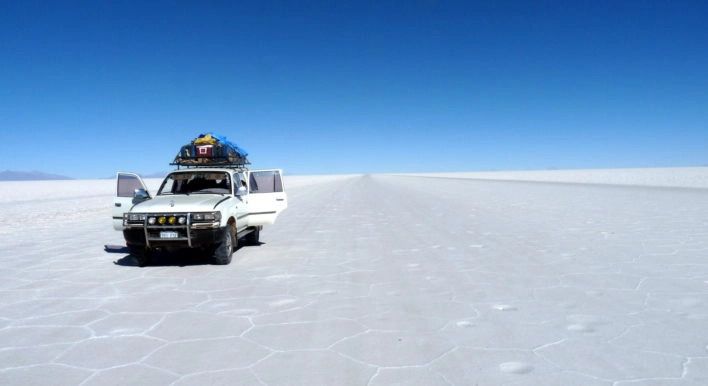 Salares of Uyuni, Bolivia
From $592
View tour
– Really? In Bolivia? Who knew?
On that first trip, while my wife bought material for curtains and had them made in record time by a prodigious tailor working round the clock, my six-year-old son joined me on a wine tour (yes, the age limit was pretty relaxed in those days).
I remember enjoying the typical travel experience of being somewhere new without being particularly impressed by the wine, which was mostly quite rustic. What most struck me was the fact they had Tannat and Torrontes (two varieties I had never heard of until I first came to Argentina in 2000).
I enjoyed the story behind the singani spirit which is Bolivia's national drink. Similar to brandy, distilled from white Muscat of Alexandria grapes, it's often drunk with lime and lemonade, forming the base of a cocktail named chuflay.
As legend has it, this is because the British and north American mine workers worked hard at keeping flies out of their sweet concoction: "Shoo, fly!" (though I imagine more colourful language was often used).
Well, that was what our guide told me: a more prosaic alternative explanation can be found here.
Grapevines were planted in Tarija in 1602 by Franciscan monks, following neighbouring Chile and Argentina where the vines arrived with the conquistadores in the 1550s.
The Tarija valley strikes me as very similar to our own Valles Calchaquies, protected by a range of hills creating an excellent microclimate; and despite being 20km north of the Tropic of Capricorn, an altitude between 1,850m and 2,100m (6,07ft0 to 6,890ft) ensures cooler nights.
We returned from that trip with Alicia happy with handmade curtains at a fraction of the price in Argentina, and me with a case of wines bought more out of curiosity than anything else.
Sidebar: This was when there were five bolivianos to the peso: now the rate is 100 pesos to the boliviano: No, that's not a typo, it's a 500-fold devaluation and a tragic indication of the disastrous mismanagement of the Argentine economy over the last decade and a bit.
Returning last month, while the prices of wine are through the roof if you're toting pesos they're still good value in dollars, with the best reserves between US$30 and US$40, as the quality of the wine has also increased 500fold.
Alicia and I visited Aranjuez winery, which only opened to the public a few years ago, and enjoyed a superb tour of the vineyards conducted in English and Spanish by Gerardo Aguirre, grandson of the founder.
The family produced their first bottle of wine in 1976, but in 1999 they bought a 40 hectare plot and planted the first variety of Tannat in Bolivia: from here on, they switched from making wine using the grapes of other producers to growing their own: and now have a total of 200 hectares under plantation.
Twenty five per cent of the vines are Tannat, a variety from Madiran, on the southern coast of France which nobody outside the wine cognoscenti had ever really heard of until Uruguay started producing some excellent single varieties. Three of Aranjuez's line of Tannats have won gold medals in the "Tannat to the World" contests held in our tiny neighbouring country (which punches above its weight in wine, as it does in football).
It's also the first winery in Bolivia to produce single variety Cabernet Franc and Bonarda: the first rewarded with gold medals in Chile in 2016 and Brazil in 2018, while its Pionero Bonarda won a gold in the "Vinalies Internacionales" in Paris in 2021.
In our whirlwind tour of Bolivian wine producers, we also dropped in at one of the powerhouses of singani, Bodega Kuhlmann, founded in 1930, but only open to the public since 2016.
Its founder Franz Kuhlmann was a picaresque character who, aged 15, stowed away on a boat from his home in Germany, found himself in New York, then joined the Navy and arrived in Bolivia's mining region after stints in Chile and Argentina.
Operated by the third generation of the family, Kuhlmann mainly produces singani (its Los Parrales reserva doble oro I found excellent, neat without lime or lemonade), but it is has now developed the nation's first sparkling wine (Alto Sama): and, as you'll see from my Instagram post, has excellent blends of Tannat/Cabernet Sauvignon and Moscatel/Pinot Blanc. Its Gran Patrono Marsellan premium reserve 2017 was my favourite wine of this visit.
Bolivia's wine production is tiny: according to statistics from the International Organisation of Vine & Wine (OIV), it was 84,000 hectolitres in 2021 (that's about 11 million bottles a year, the sort of amount a medium sized winery in Argentina might produce).
Its consumption per capita is also miniscule: 0.9 litres in 2021 compared to 24.2 in Argentina, though Gerardo proudly points out that in Tarija itself wine is drunk closer to a level with Argentina.
But the surface area of planted vines has doubled in the last 20 years, and adventurous wine aficionados are now discovering this lesser known wine region.
Tarija is a delightful colonial city with excellent food and wine (some of the best Argentine steak finds its way here), and it's a destination we're planning to incorporate into our roster of South American wine tours for 2024.
On one of our private guided tours, you can easily combine Tarija with an exploration of the Quebrada de Humahuaca (which has its own burgeoning wine region) and Calilegua Cloud Forest, and link up with the historic region of Potosi, famous for its silver mine and the reflective salt flats of the Salar de Uyuni.
Contact us to find out more, and while you're waiting, you can find more photos of our trip to Tarija here on Instagram.