I returned to Chile this week as the Argentine peso reached parity with the local currency.
Since I first took guests across to San Pedro de Atacama 12 years ago, Chile has recorded 66.7% inflation: Argentina has recorded almost twice that rate in just the last 12 months.
A tour we think you'll love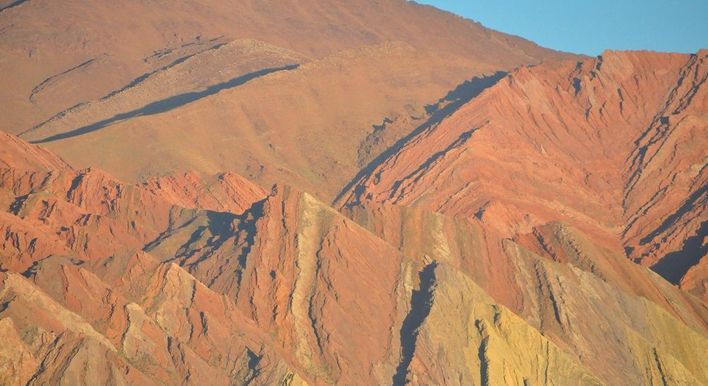 Essential Humahuaca
From $250
View tour
Argentina's blue dollar rate (the real measure of its value, not the official rate of 357 pesos) has topped 900, while the Chilean peso is 937 against the US$ on the official rate.
Our lucky neighbours don't have a parallel economy with a multitude of dollar values, including the Crypto Dollar, the Coldplay dollar, and the Qatar dollar (named as such because it was applied during last year's World Cup to sting Argentines using their bank cards abroad, charging them double the official rate).
A friend's mother has spent 18 months trying to claim her husband's pension after he died: Argentine bureaucracy never runs particularly smoothly.

Paid out in pesos, she bought dollars at 900: when she should have cashed in her pension, the blue dollar was between 200 and 270, so she's lost around three quarters of its value.
When I went into Salta city centre last week to buy last minute supplies for our trip to Chile, people were queueing around the block to withdraw money from the bank.
It's logical: in Argentina's upside down world, when there's no confidence in the peso, the only way of protecting your earnings is to buy US dollars: thus fuelling inflation and driving the parallel economy, as demand for the greenbacks rockets.
When I started doing trips 15 years ago, I was spending an average of 50 or 60 pesos per day on expenses of food and accommodation.
Admittedly, I sometimes treat myself to the slightly less budget options now, but I'm spending more like 15,000 to 20,000 pesos daily.
So why has the blue dollar gone through the roof recently?
I am not an economist, and I stand to be corrected by those who are more able than me, but it appears mostly because we have an election on the horizon.
Before the primaries in August, when the third party candidate narrowly topped the poll, the blue dollar was hovering around 500. After the results, it shot up to 650.
Javier Milei, now the front-runner in the real elections on Sunday (22nd October), is a wild-haired liberatarian with some wacky ideas who claims to be from outside the "political caste"… hmm, does that remind you of anybody?
The other main opposition candidate, narrowly second in the primaries, is Patricia Bullrich, a former member of the youth wing of the Montoneros, an armed Peronist group from the 1970s, who travelled across the political spectrum to become a leading light as Minister of Security in the economically liberal Macri government of 2015 to 2019.
The "official" candidate is Sergio Massa, the current Minister of the Economy who has presided over more than 100% inflation but promises he will do an excellent job if left to run the country by himself.
Not surprisingly, many of the local voters aren't particularly impressed, and are taking refuge in the US$.
After two televised Presidential debates, the dollar topped 900, crazily teetering on four figures for a few hours.
Argentina's lame duck President Alberto Fernandez, so unpopular even within his own party that he isn't running for a second term, has of course blamed this on Milei!
As Argentines go to the polls this weekend, whatever happens after the election (and even Milei has backtracked on his promises to eliminate the peso), cynics joke that at least if the peso peaks at 1,000 it will be easier to work out the exchange rate for dollarization.
What this means, of course, is that if you're planning a trip to Argentina, and want to do a private tour with one of our English-speaking guides, your holiday is great value.
As we tell all our guests on our tailor-made trips, you need to bring US$ cash to get the real street value of things: rest assured that you're not exploiting the locals, you're bringing in much needed US dollar bills.
Sergio Massa had at least one good idea: applying a special tourist rate to visitors using their foreign bank card: see my blog on the Dollar MEP for more info.
This brings money into the official economy, and also gives you a decent rate close to the blue.
We await the results of this week's elections to see what the economic future holds: of one thing, at least, we can be sure: the future of tourism in Argentina is bright.