Back in the days before the "gap year" became part of the leisure industry, one of the best jobs to pick up towards the end of the British summer holidays was grape picking for the wine harvest in Europe.
I never managed to make it myself; my own gap year before university consisting of six months' work in a bakery in Guildford High Street, a brief stint travelling down through France to Spain for conservation work and three months as a volunteer at a holiday centre in Cornwall.
A tour we think you'll love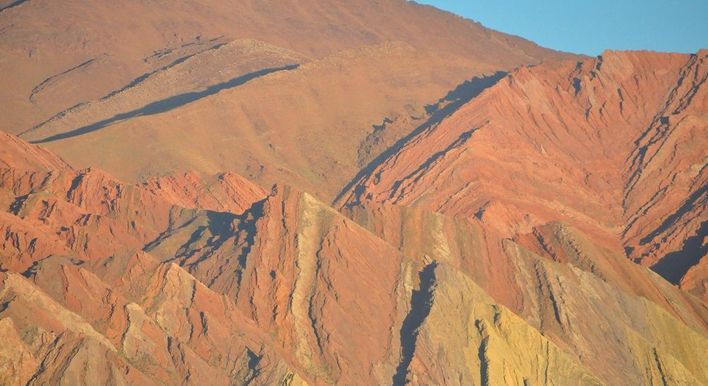 Essential Humahuaca
From $250
View tour
So my first vendimia was after I came to live in Argentina: in 2009, in Cafayate, the hub of the Salta wine region.
This was at Finca las Nubes, one of the few wineries that celebrates the traditional Vendimia, where all the locals join in to harvest the grapes, and celebrate with a big party at the end of it.
On our initial visit, my wife Alicia's main concern was supervising our over-enthusiastic three-year-old son Calixto, while I consoled her with the comment that surely they wouldn't let us loose on their best grapes.
I laboured most of the day, interrupted frequently by proto-Instagrammers interrupting me to pose with my crate and shears.
I returned the following year with guests from Austria and France: Finca las Nubes is now celebrating its 19th edition of the Vendimia on March 25th (a date for your diary if you're on a wine tour in Salta at the end of next month).
When Covid struck in March 2020, I consoled myself with the thought that I would have time to join the wine harvest, but lockdown was so strict we weren't beyond the boundaries of our own town, where tobacco is the only crop.
So it was with some delight that Alicia and I went last week to join Carlos and Carla, owners of the wonderful Cielo Verde finca for their harvest.
Carlos and Carla bought an 18 hectare estate which extends up into the Yungas cloud forest on the outskirts of Chicoana, on the road to the Salta wine region.
They planted the first vines 20 years in an area known more for its tobacco production.
We helped a small team of workers harvest Chardonnay, which will be blended with Pinot Noir and Viognier to produce a champagne method sparkling wine that will be on sale in 2025.
Next month, the couple will be turning to the harvest of their reds: Tannat and Malbec, which they combine to produce an excellent blend.
So if you're interested in joining us for a stint labouring in the vineyards with our one of our wine tours during March, let us know!
Cielo Verde is less than an hour south of Salta, on the road to Cachi and the Valles Calchaquies wine region, so it's ideal for half day or day-long trips for tastings.
It's a wonderful B&B where Carla also does cooking classes, while Carlos, an expert ornithologist, does bird-spotting tours: just in their extensive grounds you can see 20% of the birds of Argentina.
Alicia and I have ourselves stayed overnight at Cielo Verde; it's a place where you can happily lose yourself in the tranquility, wandering through the vineyards to the sound of birdsong, enjoying superb views of the Valle de Lerma.
For more photos of the wine harvest follow this link.